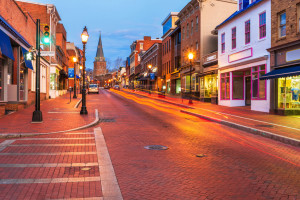 Any history buffs out there? Annapolis, Maryland, is a delight for anyone who wishes to explore our nation's past. The city has much to offer in this way.
As you may know, Naptown is rich in American history because it was the state's capital and America's capital when the Treaty of Paris was signed, ending the Revolutionary War. All four Maryland signers of the Declaration of Independence had large estates in Annapolis that still stand today and are open to visitors.
Annapolis is also home to the United States Naval Academy, which features stunning beaux arts architecture and a naval history museum. The museum is a wonderful resource that collects, preserves and displays historic naval artifacts for the general public to view and appreciate. There is heavy naval support and appreciation in the area, just about 32 miles from Washington, D.C.
If you're visiting Annapolis, Maryland anytime soon, you'll want to check out these three historic sites. Enjoy your time and don't forget to take plenty of pictures!
Annapolis Historic District
The Annapolis Historic District is the perfect place for your first visit because there's plenty to do. You'll be able to view restored homes while also shopping and dining. The district was designed in a European fashion to remind America of its humble beginnings. The design of the city of focal points surrounded by circular streets was admired by George Washington, causing him to take the design to Washington, D.C.
Annapolis has more 18th-century structures still standing than any other country in the U.S. Most are open to the public! You can experience a wine tour and scavenger hunt during your visit, keeping curiosity and history alive. Be sure to plan a whole afternoon for your visit to the historic district, so you have plenty of time to explore and get lost in the charming quaintness of the city's architecture and culture.
Annapolis Maritime Museum
The Annapolis Maritime Museum and Park is an excellent resource for educating the public about the Annapolis area's heritage and the ecology of Chesapeake Bay. The museum was founded in 1990 and honors the abundance of the bay by gathering oysters, fish, crabs, tobacco and crops to feed friends and family members.
Annapolis became a port for shipping tobacco to England and a significant sailing culture was developed in World War II. From there, "America's Sailing Capital" was born, which you can read all about at the museum.
Banneker-Douglass Museum
The Banneker-Douglass Museum is widely recognized as a historical museum in Anne Arundel County, where it showcases and preserves African-American history and culture. The building was formerly known as the Mt. Moriah African Methodist Episcopal Church before it was remodeled in 1896. Many historically significant exhibits, including The Radical Voice of Blackness Speaks of Resistance and Joy and Curatorial Statement, are on display. Curatorial Statement is a favorite because it makes a statement on freedom, equality and citizenship by showing historically significant figures like Harriet Tubman, Frederick Douglass, Benjamin Banneker and more.
The museum is a gorgeous space 2 + 1/2 stories built in the Gothic Revival style. Admission to the museum is free, but donations are encouraged to help keep the area beautiful. Guided tours range from 1.5 to 2 hours and cost about $5 per person.
Enjoy this blog? Visit our website and subscribe to our email list to stay updated on what's happening with PMI Annapolis and to read our latest blogs! PMI Annapolis is a property management company that specializes in short-term rentals. A veteran-owned business, PMI Annapolis employs Anne Arundel County real estate experts who work to keep their clients' properties as profitable as possible. Sit back and relax while they manage bookings, maintenance, networking, cleaning services and more.