Anne Arundel is an east coast gem that's famous for its delicious seafood. Just a short 50-minute drive from Baltimore, the county has over 500 miles of shoreline, making it the perfect place for boating, fishing, crabbing, water skiing, swimming and sailing.
The water surrounding the Anne Arundel County area is home to a variety of sealife, including blue crabs, grass shrimp, bluefish and striped bass. Hundreds of fishermen make their way out to harvest fresh fish for restaurants to make famous plates for tourists and locals alike. Whether you're looking for a quick bite to eat or a sit-down experience, check out these five best restaurants to try in Anne Arundel County. Not all of these restaurants are seafood restaurants, but they are the best bite in town.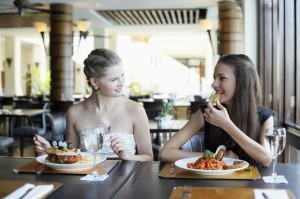 Julep Southern Kitchen & Bar
Julep Southern Kitchen & Bar brings the perfect slice of southern cooking to Maryland with homemade biscuits and creative friend chicken dishes. Popular items include the restaurant's award-winning wings, fried ribs, shrimp and grits, homemade biscuits and cream of crab soup with sweet corn. Many locals pair their dishes with cocktails like the Honey Rose Margarita or Classic Old Fashioned.
This restaurant, which has a laid-back environment that's perfect for families and kids, takes reservations and is located at Forest Plaza in Annapolis, Maryland.
The Point Crab House & Grill
If you're looking for a casual waterfront restaurant, The Point Crab House and Grill is a perfect choice. This glass-enclosed restaurant offers Maryland/Chesapeake specialties including fish and chips, crab dip, crab cakes and more.
While you're dining you'll enjoy beautiful views of the Magothy River, where you'll see the marina with several boats. Try visiting the restaurant during sunset for the perfect photo opportunity!
Cooper's Hawk Winery & Restaurants
Cooper's Hawk Winery & Restaurants is a more upscale option that's known for its house-label wines and contemporary setting. It has a variety of delicious appetizers including bruschetta, potstickers and wild mushroom flatbread. It's also recommended to try the gnocchi bolognese with braised short rib and finish off with the white and dark chocolate cheesecake.
If you enjoy drinking wine, check out the wine menu and choose from a wide selection including Cooper's Hawk Lux Sparkling, Bubbly Rose and Scarletto.
Boatyard Bar & Grill
Boatyard Bar & Grill is a casual, nautical-themed restaurant that's known for its raw bar, seafood tacos, lobster rolls and pints. The food is decently priced with great service and crab cakes, soups and dips that can be shipped anywhere in the U.S.
If you're arriving at this restaurant via boat, be sure to dock at the Annapolis City Marina. If not, there's plenty of parking on the street or at the paid marina parking.
Killarney House
If you're looking for an Irish pub in Maryland, Killarney House is the go-to spot. Located in Davidsonville, you'll get the full experience with live music, dozens of Irish whiskeys and a delicious menu full of corned beef poppers and shepherd's pie. This is also a perfect place to host an event or order offsite catering for birthday parties, bridal showers, holiday company parties, engagements and more.
Enjoy this blog? Visit our website and subscribe to our email list to stay updated on what's happening with PMI Annapolis and to read our latest blogs! PMI Annapolis is a property management company that specializes in short-term rentals. A veteran-owned business, PMI Annapolis employs experts in Anne Arundel County real estate who work to keep their clients' properties as profitable as possible. Sit back and relax while they manage bookings, maintenance, networking, cleaning services and more.