Got a vacation property available for booking? It's easy to book if it looks great, but you're not doing it any favors by making the property do all the work. There are many things you can do to increase the likelihood of booking your property before potential vacationers take a look, but it all starts in one place: the photos in your listings.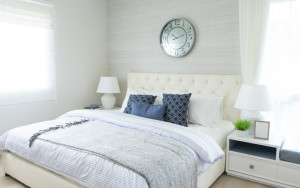 Great photographs can make your property shine. Poor photos, on the other hand, can make a great property look bad. Here are our suggestions to help you produce high-quality photographs of your property, from the front and back to any interior features that represent its best qualities.
Get ready by deep cleaning and decluttering
Preparing your house for photos can involve spending some time deep cleaning the space PRIOR to taking pictures. Whether the house contains furniture or not, it's important to clean everything thoroughly. Be sure to declutter all surfaces and shelves before taking photos – especially if you want them to feature clean spaces. Keep in mind that when you're photographing exterior shots, you'll also need to capture images of the yard and landscaping as well. After all of this work is done, you should be able to snap some beautiful, professional-quality photographs.
Professional images – WORTH IT!
To get great photographs of the interior of a property, hire a professional photographer who can take high-grade, clear shots. At the very least, use a high-quality camera to take photos with bright and clean colors. Cell phone photography is never quite up to par with what you need. Turn on all your lights and open any blinds or curtains before taking photos in order to capture natural light instead of using your flash. Make sure you provide multiple shots that show all the important areas of the home from different angles so that potential vacationers can see what they'd be getting with their booking without having to set foot inside.
Follow up with photo editing
To get the most out of your images, we suggest using a photo editing application. This could help correct the color or adjust the brightness to make your images appear cleaner and more crisp. If you're not a graphic designer, don't worry! Many photography apps offer preset editing tools so you can spruce up your images with the click of a button.
Work with a property management company!
If you don't want to worry about any of this on your own, hire a property management company! At PMI Annapolis, our property services include helping you find a housekeeper, hire a trusty handyman, do your marketing, set up your own website, come up with pricing, manage listings and more! We have the tips, skills, and knowledge to get the job done without you having to worry about a thing! At PMI Annapolis we'll treat your investment like it's our own. Plus, you'll be able to see all of the financial benefits without having to put in the sweat and tears to get there. PMI Annapolis is sure to be exactly what you need to have a successful and lucrative investment property business. Visit our website to learn more!